Working with Families who are Hard to Help in Child Protection
Date & Time:
Friday 17 May 2019
(09:30 - 16:30)
Venue:
Room B12A The Woolwich Centre, The Woolwich Centre 2nd Floor Business Centre 35 Wellington Street Woolwich London
Detail:
Working with Families who are Hard to Help in Child Protection
When professionals are concerned about the welfare of children they need to work with families who may be facing multiple difficulties in their lives. On occasions this can mean they will be encountering parents and carers who are evasive, fearful, uncooperative and ambivalent toward professionals and also sometimes behave in ways which are frightening. This is often described as resistant and indeed serious case reviews have highlighted how families can manipulate professionals in such circumstances. However, it is perhaps more helpful to understand these as families who are hard to help. This one day course looks at the patterns of such behaviour and what can lay behind it. It will equip practitioners with strategies for working safely and effectively in such circumstances
Target Group: Groups 3 - 5 Members of the workforce who work predominantly with children, young people and/or their parents/carers and who could potentially contribute to assessing, planning, intervening and reviewing the needs of a child and parenting capacity where there are safeguarding concerns
Aims & Objectives: 
In this one day course we will explore patterns of parental behaviour that are labelled resistant in terms of families being evasive, hostile, uncooperative or ambivalent & what can lay behind this. Parental perspective on the child protection process; how practitioners can manage these most effectively & work inclusively with parents. How these behaviours can be analysed in terms of potential impact on children & young people. The pitfalls that practitioners can fall into with families that can exacerbate difficult dynamics with family members. How issues such as gender, ethnicity & class can shape impact on dynamics with professionals. Strategies for keeping safe when working with families who are threatening. Assessing capacity for change when working with families who are hard to help
Booking:
Booking has now closed for this event.
Further Information:
Type:
One day
Enquiries:
safeguardingtraining@royalgreenwich.gov.uk
Trainer:
James Blewett
Venue Details:
Room B12A The Woolwich Centre, The Woolwich Centre 2nd Floor Business Centre 35 Wellington Street Woolwich London
(020 8854 8888)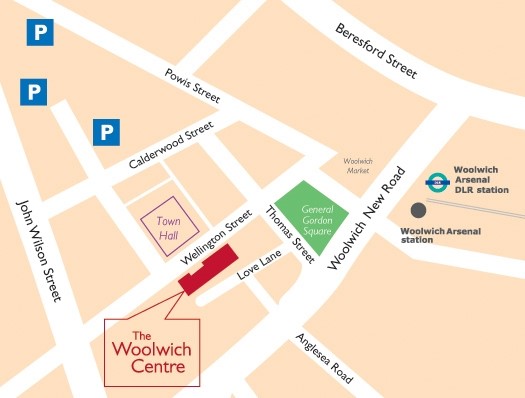 The Woolwich Centre is opposite the Town Hall, with the entrance on Wellington Street.

Train:           
Woolwich Arsenal
DLR:                    
Woolwich Arsenal
Tube:
North Greenwich then bus 422, 161, 472
Buses:                
249,178,161,180,177,291,122,386,380,53,51,54,244,422,96,472
Parking:
There is Multi-storey car parking in Calderwood St and Meter parking