Introduction to Neglect
Date & Time:
Thursday 16 January 2020
(09.30 - 13.00)
Venue:
Room B12B The Woolwich Centre, The Woolwich Centre 2nd Floor Business Centre 35 Wellington Street Woolwich London
Detail:
Introduction to Neglect
To help practitioners recognise the signs and symptoms of neglect and equip them with tools to help them asses and plan an intervention where neglect is a concern.
Target Group: Groups: Group 1-2  Staff in infrequent contact with children, young people and/or parents/carers who may become aware of possible abuse or neglect. Examples: Librarians, GP receptionists, community advice centre staff, groundsmen, recreation assistants, environmental health officers, hospital support staff, and receptionists, volunteers and new starters to Childrens Workforce. Those in regular contact or have a period of intense but irregular contact, with children, young people and/or parents/carers including all health clinical staff, who may be in a position to identify concerns about maltreatment.
Aims & Objectives: By the end of this half day workshop the participants will be able:
to list the signs and symptoms of neglect
to describe the accumulative impact of neglect on children
to demonstrate an ability to undertake risk assessments in the case of neglect
to understand the importance of chronologies, especially where neglect is a concern
Places Available:
5
Further Information:
Type:
Half Day
Enquiries:
safeguardingtraining@royalgreenwich.gov.uk
Trainer:
Members of RBG Quality Improvement Service
Venue Details:
Room B12B The Woolwich Centre, The Woolwich Centre 2nd Floor Business Centre 35 Wellington Street Woolwich London
(020 8854 8888)
Woolwich Centre Map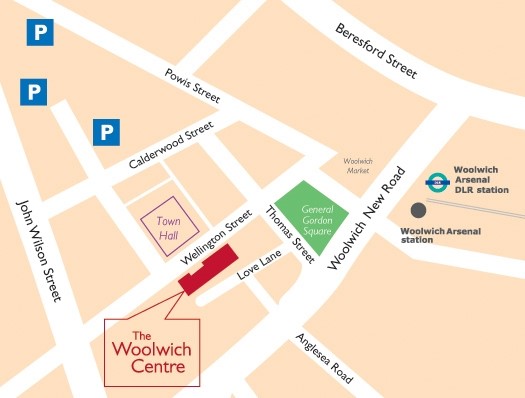 The Woolwich Centre is opposite the Town Hall, with the entrance on Wellington Street.

Train:           
Woolwich Arsenal
DLR:                    
Woolwich Arsenal
Tube:
North Greenwich then bus 422, 161, 472
Buses:                
249,178,161,180,177,291,122,386,380,53,51,54,244,422,96,472
Parking:
There is Multi-storey car parking in Calderwood St and Meter parking