Child Abuse Linked to Faith & Belief
Date & Time:
Monday 4 October 2021
(9.30 am - 1.00 pm)
Venue:
The Gallery, The Woolwich Centre, The Woolwich Centre 7th Floor 35 Wellington Street Woolwich London
Detail:
Child Abuse Linked to Faith & Belief
To provide an overview of and raise awareness about faith and belief-related abuse, preventative measures and actions to be taken when cases are identified
Target group: Groups 2-4 Those in regular contact or have a period of intense but irregular contact, with children, young people and/or parents/carers including all health clinical staff, who may be in a position to identify concerns about maltreatment.  Members of the workforce who work predominantly with children, young people and/or their parents/carers and who could potentially contribute to assessing, planning, intervening and reviewing the needs of a child and parenting capacity where there are safeguarding concerns. Members of the workforce who have particular responsibilities in relation to undertaking section 47 enquiries, including professionals from health, education, police and children's social care; those who work with complex cases and social work staff responsible for co-ordinating assessments of children in need.
Aims & Objectives: By the end of this half day course participants will be able to:
Understand the different types of abuse linked to faith or belief
Consider some case studies
Improve their ability to recognise risk factors
Understand the importance of dealing with concerns
Gain awareness of relevant legislation and procedures including the Government's National action plan for tackling child abuse linked to faith or belief
Develop an awareness of research findings
Facilitator: Dr. Richard Hoskins
Dr Hoskins has been the lead expert witness in some of the highest profile cases in the UK e.g. Child B, 'Adam', Kristy Bamu. His 2012 published book The Boy in the River has been a Sunday Times Top Ten bestseller.
Places Available:
0
Further Information:
Type:
Half Day
Enquiries:
Safeguardingtraining@royalgreenwich.gov.uk
Trainer:
Dr R Hoskins
Venue Details:
The Gallery, The Woolwich Centre, The Woolwich Centre 7th Floor 35 Wellington Street Woolwich London
(020 8854 8888)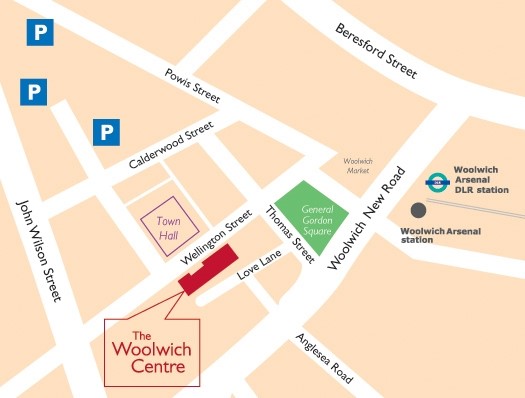 The Woolwich Centre is opposite the Town Hall, with the entrance on Wellington Street.

Train:           
Woolwich Arsenal
DLR:                    
Woolwich Arsenal
Tube:
North Greenwich then bus 422, 161, 472
Buses:                
249,178,161,180,177,291,122,386,380,53,51,54,244,422,96,472
Parking:
There is Multi-storey car parking in Calderwood St and Meter parking