Workshop to Raise Awareness of PREVENT Briefing
Date & Time:
Monday 27 January 2020
(2.00 pm - 4.30 pm)
Venue:
Room B12B The Woolwich Centre, The Woolwich Centre 2nd Floor Business Centre 35 Wellington Street Woolwich London
Detail:
Workshop to Raise Awareness of PREVENT Briefing
In your professional capacity, you may encounter young people who are vulnerable, at risk or in the process of being radicalised.  You may be able to identify changes in a child which when shared with other agencies, could indicate an issue that needs to be addressed.
Any individual of concern may be referred to a multiagency panel known as Channel.  Channel is about safeguarding children and adults from being drawn into committing terrorist-related activity. It is about early intervention to protect and divert people away from the risk they face before illegality occurs.
In light of the new Counter Terrorism and Security Act, the Home Office have created a product called Workshop to Raise Awareness of Prevent (WRAP).
This comprises of a session lasting approximately 2 hours, which includes a DVD case study of a true account and a small amount of audience participation.  This input will cover the points explained as above and is aimed at ensuring Ofsted requirements for Prevent training to staff is completed. It is a multi-agency approach to identify individuals who are at risk or vulnerable of becoming radicalised, to stop people from becoming or supporting terrorism and to help build stronger, safer communities.
Target group: Groups 1-3 Staff in infrequent contact with children, young people and/or parents/carers who may become aware of possible abuse or neglect. Those in regular contact or have a period of intense but irregular contact, with children, young people and/or parents/carers including all health clinical staff, who may be in a position to identify concerns about maltreatment.  Members of the workforce who work predominantly with children, young people and/or their parents/carers and who could potentially contribute to assessing, planning, intervening and reviewing the needs of a child and parenting capacity where there are safeguarding concerns. 
Aims & Objectives:
an awareness and understanding of the Prevent agenda and their role within it;
the ability to use existing expertise and professional judgement to recognise potentially vulnerable individuals who may be susceptible to messages of violence.
The confidence to use a common sense based response
Booking:
Booking has now closed for this event.
Further Information:
Enquiries:
safeguardingtraining@royalgreenwich.gov.uk
Trainer:
Heather Hutchings PREVENT (Counter Extremism) Education Officer
Venue Details:
Room B12B The Woolwich Centre, The Woolwich Centre 2nd Floor Business Centre 35 Wellington Street Woolwich London
(020 8854 8888)
Woolwich Centre Map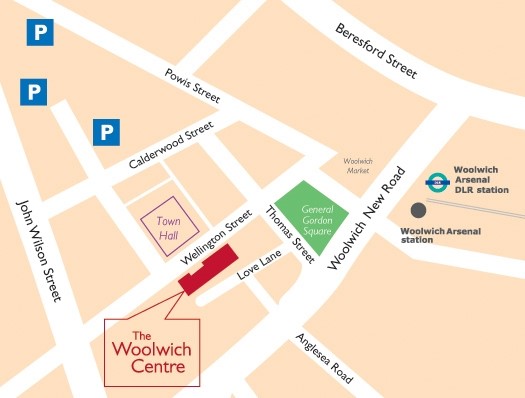 The Woolwich Centre is opposite the Town Hall, with the entrance on Wellington Street.

Train:           
Woolwich Arsenal
DLR:                    
Woolwich Arsenal
Tube:
North Greenwich then bus 422, 161, 472
Buses:                
249,178,161,180,177,291,122,386,380,53,51,54,244,422,96,472
Parking:
There is Multi-storey car parking in Calderwood St and Meter parking