Attending & Presenting at Child Protection Conferences & Core Group Meetings
Date & Time:
Tuesday 1 October 2019
(10.00 - 12.30)
Venue:
Room B12A The Woolwich Centre, The Woolwich Centre 2nd Floor Business Centre 35 Wellington Street Woolwich London
Detail:
Attending & Presenting at Child Protection Conferences & Core Group Meetings 
To develop and enhance participants' understanding of child protection conferences (particularly the Strengthening Families model used in Royal Greenwich) and working with a child protection plan as a member of the core group
Target Group: Groups 3 - 5  Members of the workforce who work predominantly with children, young people and/or their parents/carers and who could potentially contribute to assessing, planning, intervening and reviewing the needs of a child and parenting capacity where there are safeguarding concerns
Aims & Objectives: By the end of this half day course the participants will be able:
To prepare for a child protection conference and core group by being aware of relevant expectations, standards and responsibilities.
To understand the conference and core group process.
To develop confidence in participating in conferences and core groups, valuing own expertise contributing to effective outcomes.
To make contributions and participate in child protection conferences and core groups in a non-discriminatory and non-judgemental manner.
To address issues arising from parents, family members and children attending conferences and core groups.
To understand the criteria for making a Child Protection Plan, to link the Child Protection Plan to evidence based practice and to understand how it is used as a tool to safeguard the child and minimise risk
to keep the child in focus throughout.
Booking:
Booking has now closed for this event.
Further Information:
Type:
Half Day
Enquiries:
safeguardingtraining@royalgreenwich.gov.uk
Trainer:
Child Protection Conference Chairs
Venue Details:
Room B12A The Woolwich Centre, The Woolwich Centre 2nd Floor Business Centre 35 Wellington Street Woolwich London
(020 8854 8888)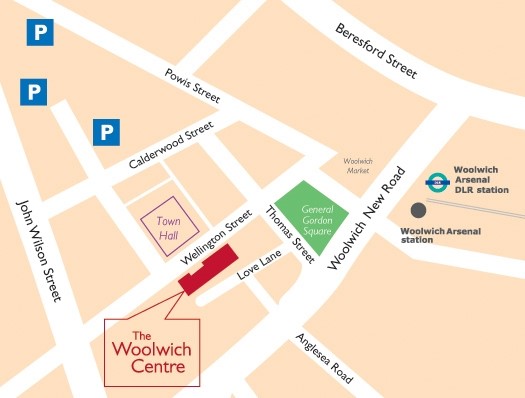 The Woolwich Centre is opposite the Town Hall, with the entrance on Wellington Street.

Train:           
Woolwich Arsenal
DLR:                    
Woolwich Arsenal
Tube:
North Greenwich then bus 422, 161, 472
Buses:                
249,178,161,180,177,291,122,386,380,53,51,54,244,422,96,472
Parking:
There is Multi-storey car parking in Calderwood St and Meter parking