Child Sexual Exploitation: A Basic Awareness
Date & Time:
Thursday 4 July 2019
(14.00 - 16.00)
Venue:
Room B12A The Woolwich Centre, The Woolwich Centre 2nd Floor Business Centre 35 Wellington Street Woolwich London
Detail:
Child Sexual Exploitation: A Basic Awareness
To help practitioners recognise the signs and symptoms of Child Sexual Exploitation and equip them with tools to help them asses and plan an intervention where exploitation is a concern
Target Audience: Groups 1 - 4 Those in regular contact or have a period of intense but irregular contact, with children, young people and/or parents/carers including all health clinical staff, who may be in a position to identify concerns about maltreatment. Members of the workforce who work predominantly with children, young people and/or their parents/carers and who could potentially contribute to assessing, planning, intervening and reviewing the needs of a child and parenting capacity where there are safeguarding concerns. Members of the workforce who have particular responsibilities in relation to undertaking section 47 enquiries, including professionals from health, education, police and children's social care; those who work with complex cases and social work staff responsible for co-ordinating assessments of children in need.
Aims & Objectives: By the end of this 2 hour course participants will:
Have an overview of and raised awareness about the issue of child sexual exploitation,
Recognise indicators/warning signs of CSE and learn how to develop effective intervention strategies to reduce risk and harm
Develop knowledge and skills in working with victims of sexual exploitation
How to respond effectively to vulnerable young people and reduce the risk to CSE
Booking:
Booking has now closed for this event.
Further Information:
Type:
2 Hours
Enquiries:
safeguardingtraining@royalgreenwich.gov.uk
Trainer:
Agnes Hibbs
Venue Details:
Room B12A The Woolwich Centre, The Woolwich Centre 2nd Floor Business Centre 35 Wellington Street Woolwich London
(020 8854 8888)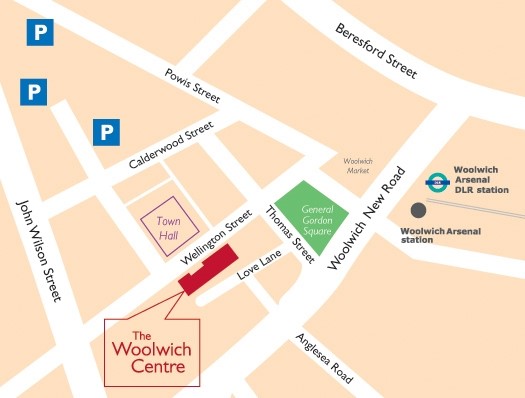 The Woolwich Centre is opposite the Town Hall, with the entrance on Wellington Street.

Train:           
Woolwich Arsenal
DLR:                    
Woolwich Arsenal
Tube:
North Greenwich then bus 422, 161, 472
Buses:                
249,178,161,180,177,291,122,386,380,53,51,54,244,422,96,472
Parking:
There is Multi-storey car parking in Calderwood St and Meter parking