Attachment, Trauma and Child Development
Date & Time:
Monday 4 November 2019
(09.30 - 16.30)
Venue:
The Gallery, The Woolwich Centre, The Woolwich Centre 7th Floor 35 Wellington Street Woolwich London
Detail:
Attachment, Trauma and Child Development
To gain a deeper understanding and use of attachment theory and child development in order to enhance multi-agency discussion on the best approach to achieve better outcomes for children and young people
Target group: Groups 2-3 Those in regular contact or have a period of intense but irregular contact, with children, young people and/or parents/carers including all health clinical staff, who may be in a position to identify concerns about maltreatment.  Members of the workforce who work predominantly with children, young people and/or their parents/carers and who could potentially contribute to assessing, planning, intervening and reviewing the needs of a child and parenting capacity where there are safeguarding concerns
Aims & Objectives: By the end of this one day course participants will have:
An understanding of attachment theory and how this may apply to children's behaviour and working models.
To understand the key developmental tasks/stages for children;
To understand key messages from SCR's on development;
To be able to apply this information, using tools, in practice and assessment to enhance understanding and clarify outcomes.
Booking:
Booking has now closed for this event.
Further Information:
Type:
One Day
Enquiries:
safeguardingtraining@royalgreenwich.gov.uk
Trainer:
Rahana Hussein
Venue Details:
The Gallery, The Woolwich Centre, The Woolwich Centre 7th Floor 35 Wellington Street Woolwich London
(020 8854 8888)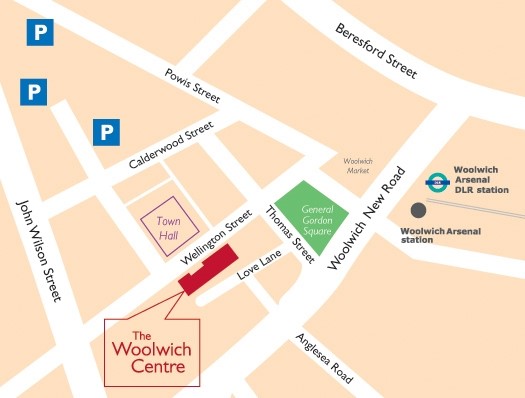 The Woolwich Centre is opposite the Town Hall, with the entrance on Wellington Street.

Train:           
Woolwich Arsenal
DLR:                    
Woolwich Arsenal
Tube:
North Greenwich then bus 422, 161, 472
Buses:                
249,178,161,180,177,291,122,386,380,53,51,54,244,422,96,472
Parking:
There is Multi-storey car parking in Calderwood St and Meter parking