Working with Parental Substance Misuse
Date & Time:
Monday 25 November 2019
(10.30 - 16.30)
Venue:
Room B12A The Woolwich Centre, The Woolwich Centre 2nd Floor Business Centre 35 Wellington Street Woolwich London
Detail:
Working with Parental Substance Misuse
To enhance and develop knowledge and skills in working with children and families affected by problematic alcohol and drug use
Target Group: Groups 3 - 5  Members of the workforce who work predominantly with children, young people and/or their parents/carers and who could potentially contribute to assessing, planning, intervening and reviewing the needs of a child and parenting capacity where there are safeguarding concerns
Participants must have attended a basic awareness course in drugs and alcohol. This can be via their own agency, Greenwich DAMIC or evidenced through attendance at another borough's training
Aims & Objectives: By the end of this one day course the participants will have: 
Considered key messages from research on the prevalence, nature and effects of parental substance misuse
Recognized the impact of PSM on the children and their parents
Developed skills in assessing PSM, taking into account risk and resilience factors for children.
Explored the importance of a multi-agency approach in this area of practice
Improved their knowledge of local and national services to support children and families affected by PSM
Booking:
Booking has now closed for this event.
Further Information:
Type:
One Day
Enquiries:
safeguardingtraining@royalgreenwich.gov.uk
Trainer:
Olivier Busin
Venue Details:
Room B12A The Woolwich Centre, The Woolwich Centre 2nd Floor Business Centre 35 Wellington Street Woolwich London
(020 8854 8888)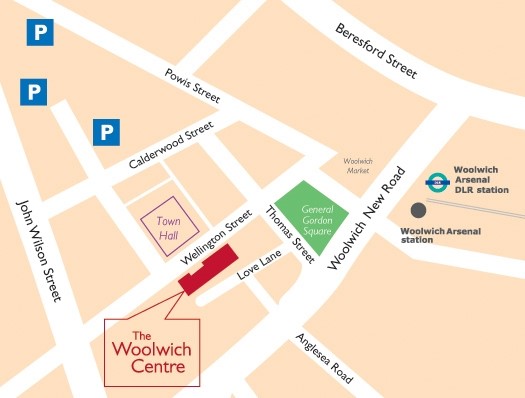 The Woolwich Centre is opposite the Town Hall, with the entrance on Wellington Street.

Train:           
Woolwich Arsenal
DLR:                    
Woolwich Arsenal
Tube:
North Greenwich then bus 422, 161, 472
Buses:                
249,178,161,180,177,291,122,386,380,53,51,54,244,422,96,472
Parking:
There is Multi-storey car parking in Calderwood St and Meter parking